Models with colour audio system
Your audio system allows you to listen to music from your Bluetooth-compatible phone.
This function is available when the phone is paired and connected to the vehicle's Hands-Free Telephone (HFT) system.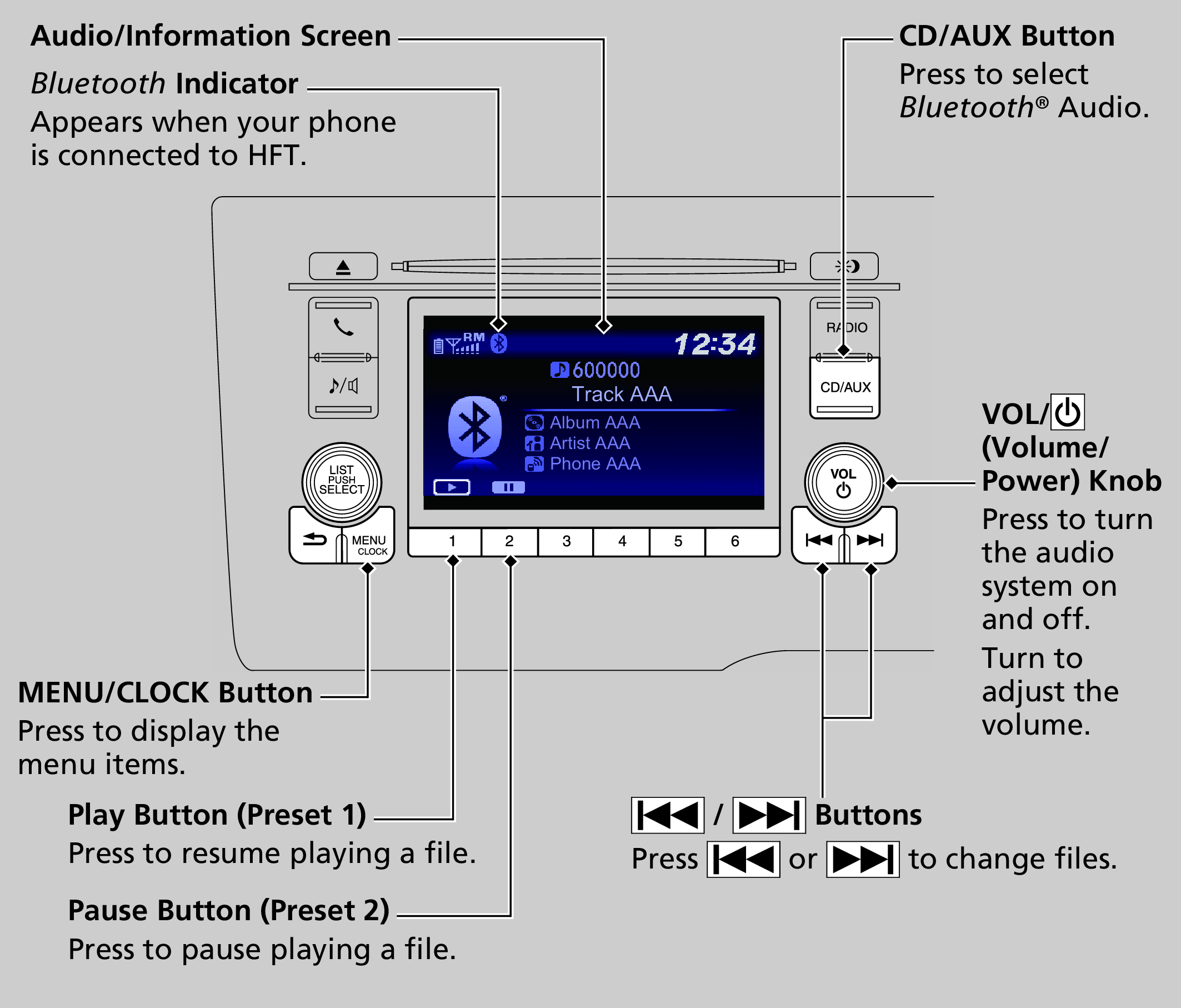 Detail

Not all Bluetooth-enabled phones with streaming audio capabilities are compatible with the system.
To check if your phone is compatible, ask a dealer.




It may be illegal to perform some data device functions while driving.




Only one phone can be used with HFL at a time. When there are more than two paired phones in the vehicle, the first paired phone the system finds is automatically connected.




If more than one phone is paired to the system, there will be a delay before the system begins to play.




In some cases, the name of the artist, album, or track may not appear correctly.




Some functions may not be available on some devices.
To Play Bluetooth® Audio Files
Make sure that your phone is paired and connected to the system.

Press the CD/AUX button.

If the phone is not recognized, another HFT-compatible phone, which is not compatible for Bluetooth® Audio, may already be connected.
Detail

To play the audio files, you may need to operate your phone. If so, follow the phone maker's operating instructions.




The pause function may not be available on some phones.




If any audio device is connected to the auxiliary input jack or USB port, you may need to press the CD/AUX button repeatedly to select the Bluetooth® Audio system.




Switching to another mode pauses the music playing from your phone.
To pause or resume a file
Press a Play or Pause button to select a mode.
How to Select a Song from the Music Search List with the Selector Knob
Press to display the music search list.
Rotate to select a category.
Press to display a list of items in the category.
Rotate to select an item, then press .

Press and rotate repeatedly until a desired item you want to listen is displayed.
Detail

Depending on the Bluetooth® device you connect, some or all of the categories may not be displayed.